In the heart of the Aix countryside
The Domaine d'Aix restaurant is open from Wednesday lunchtime to Sunday lunchtime.
Come and enjoy the cuisine of our Chef, Thierry BERNET, in an elegant atmosphere. Discover our seasonal menu & book for your business or private lunches and dinners.
Out of season, please contact us for timetables.
Born in Alsace, Chef Thierry Bernet was in his mother's kitchen from the age of 6. It was almost instinctively that he then went to the Ecole Hôtelière de Guebwiller, at the age of 14. He earned his stripes as a chef at Mr Jean Schillinger's, one of the best restaurants in France and the world. He then left as a Chef.
A lover of the sea, he was recruited at the age of 23 at the Sofitel Méditerranée in Cannes and then at the Sofitel Marseille. His subsequent career took him to Relais & Châteaux and hotel openings. He then went on to work as Executive Chef for the ACCOR group, while also organising a number of prestigious receptions as a caterer.
Today, Thierry Bernet "Maître Restaurateur" officiates at the Domaine d'Aix as Executive Chef, accompanied by his Chef of many years, Thomas DUMORTIEZ.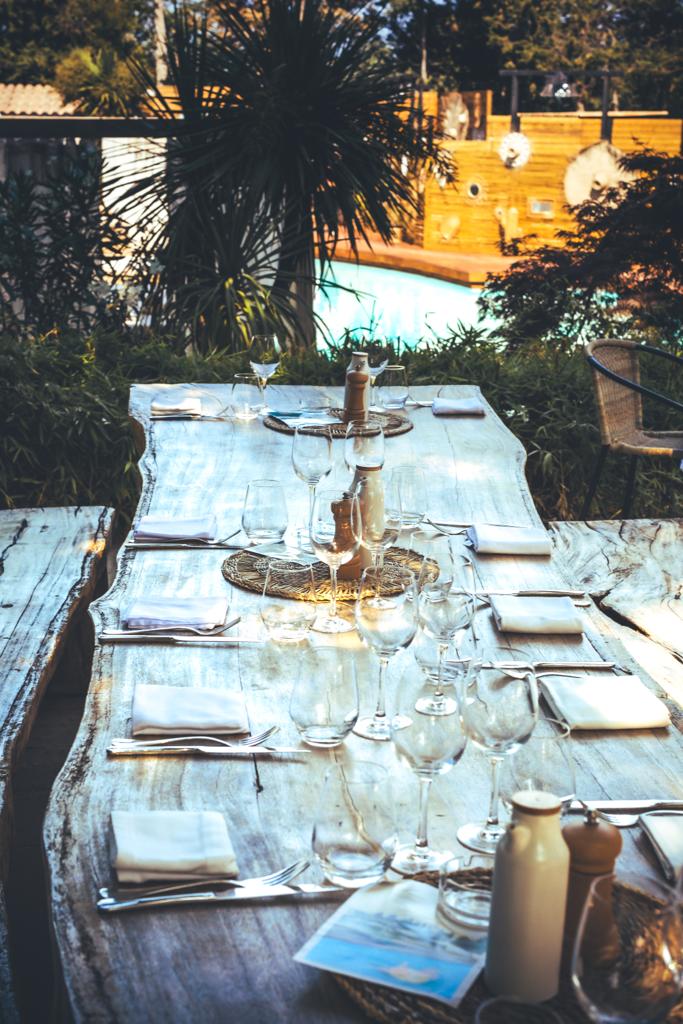 and its signature cocktails
Open all year round, the Domaine d'Aix offers you its signature cocktail menu in an intimate, chic setting.
Follow all our news and events on our Instagram account @domaine_daix.
What they think of the
Domaine d'Aix
We went to the estate when it opened in June and again in July. We enjoyed each time, pasta with lobster, octopus, Caesar salad everything was excellent. The place is just magical, a good discovery for me, we will return there with pleasure. The dress code was correct, but I think that's normal.
We were welcomed by Vincent who made us feel very welcome. I would recommend % to 100 people, we ate very well and the prices are not excessive as I read in the previous comment. We will come back for sure
A perfect day out with a girlfriend! The ideal place to spend a day at the pool with your girlfriends: cocktails, restaurant and deckchairs, all with a great decor and friendly waiters! To be repeated without moderation!
Ahhh what a great place! We had a great time, the musical atmosphere was great and the team, nothing to say (for the moment ahah), we'll be back one day! Quality food for the price, affordable but not cheap if you want to eat well and enjoy a good wine! Ideal for a group to spend an excellent evening. See you soon!